Villa La Magia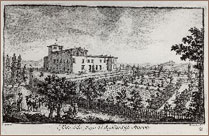 "Mr Pandolfo Attavanti's Villa La Magia" Giuseppe Zocchi/Niccolò Mogalli 1744
Villa La Magia is located at the centre of a land rich in history, in the heart of the Medicean Tuscany.
The superb residence, one of the symbols of the Renaissance culture, has reached us through many events and today it presents the stratifications, the signs and the memories of its transformations. On his diary, titled "Memoria", Gualtieri di Antonio Panciatichi, one of the first proprietors of Villa La Magia, tells us that on May the 4th 1536 Emperor Charles V was given hospitality at the villa with his wake and his to-be son-in-law Alessandro de' Medici, duke of Florence.
They took part in a hunting game in the Villa estate and Gualtieri says:" during that hunting game he hunted several deer, roe deer, pigs, wolves, hares, pheasants and ducks. After the game, His Majesty and all his court came by horse to the Villa to relax and refresh. When he dismounted he drank our TREBBIANO and then he put the mouth to the well bucket, drinking water from it.
We did our best to honour him and the people in his wake." That same evening Charles V went to Pistoia. The people in his wake then said that "In Italy, the Emperor went to a hunting game at Villa La Magia only". Grand Duke Francesco I ordered the renovation works for the Villa to the court architect Bernardo Buontalenti and in 1585 he ordered the construction of an artificial lake, as we can see in the Justus Utens lunette, painted between 1599 and 1602. In 1645 Ferdinando II sold the property of La Magia to Pandolfo Attavanti, then, in 1752, the estate passed from that family to the Ricasoli family as an inheritance. I
n 1766 Giulio Giuseppe Amati bought the Villa and all its outbuildings. When in 1863 the Amati family died out, the assets went to the Counts Amati Cellesi. since 2000 Villa la Magia is property of Quarrata Town Council.