Park- museum "Genius Loci- The Spirit of the Place"
Villa La Magia Permanent Contemporary Art Collection
Villa La Magia Permanent Contemporary Art Collection winds through a sensory path, in a park-museum of unique beauty, where works of famous artists blend with the landscape, they mix in the spirit of the place and of the history as far as become part and parcel with it, matter of contemplation for the visitor and matter of perennial evocation of sensations aiming at overcoming the boundaries beyond landscape and matter.
The collection was enriched during the years thanks to works especially created by the artists and collocated in the park.
The Collection includes:
LIMONAIA DI LEVANTE
MICAT IN VERTICE
Fabrizio Corneli

2005 – Light and shadows installation
on the façade of Limonaia di Levante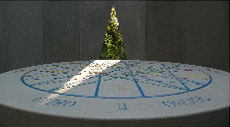 VILLA LA MAGIA HISTORIC GARDEN
LA FABBRICA DELLA MEMORIA
Anne e Patrick Poirier

2006 – Pietra serena tone (Fiorenzuola stone) installation mt.4x3x2.
Villa La Magia historic garden, near the pond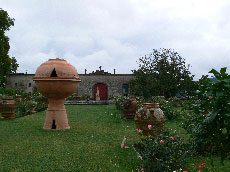 VILLA LA MAGIA HISTORIC GARDEN
I BRUCIAPROFUMI
Anne e Patrick Poirier

1997 - Impruneta terracotta essence burner h. mt 3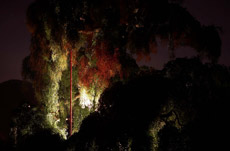 VILLA LA MAGIA HISTORIC GARDEN
ASCOLTA IL FLAUTO DI CANNA
Marco Bagnoli

2007 - Aluminium "bamboo reed" , with sound installation.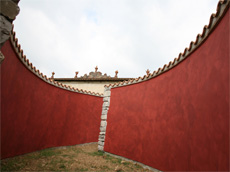 VILLA LA MAGIA HISTORIC GARDEN
GIARDINO ROVESCIATO
Nagasawa
2008